To access our Subscription Service,  subscriber clicks on the Subscriber Log-in link on our website:

This is the Subscription Service Log in page.   Once you sign up in the store (and fill out the credit card agreement),  you get an email with a link, which leads you to a page where you create the password and, then takes you to this log in page for the first time.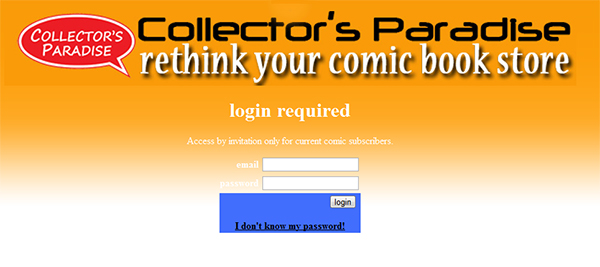 Here is what a customer's "My Subscription" page looks like.  You can browse and Search titles on top, and have an overview of your Subscription right at your fingertips. All the titles are listed, and the ones in BOLD are scheduled to come out the current week, on Wednesday.  Your Total titles subscribed and Out this week numbers are listed for you also.  Clicking on any title brings up a window with the latest issue (and usually the next two issues), including the cover image, original solicitation info from Previews and more.  Clicking X next to the title's name removes it from your Subscription.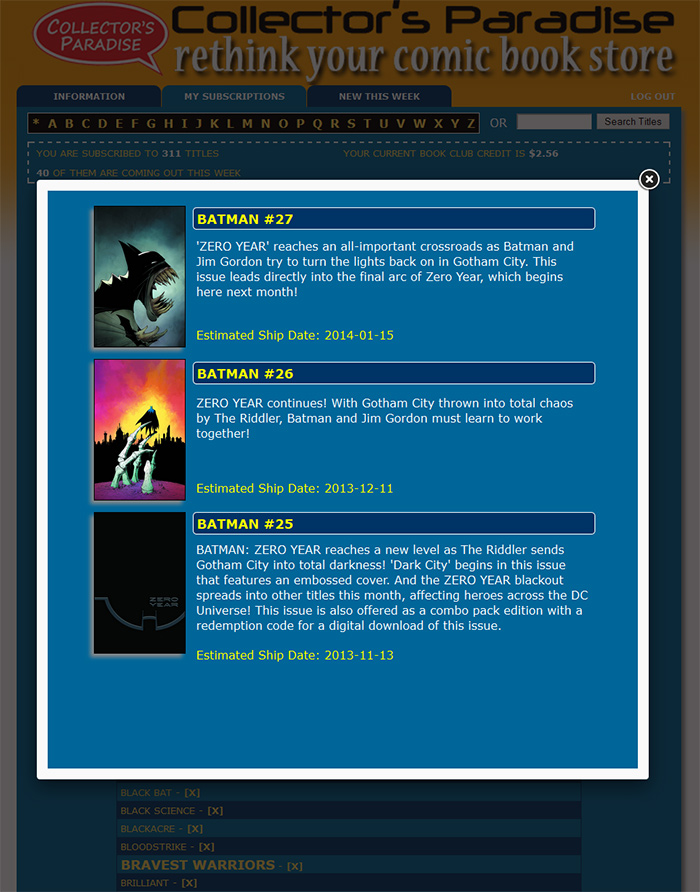 This is the "New This Week" page.  Titles scheduled to come out during the current week are listed with issue numbers.  All crossover events are listed on top, and, if you wish to subscribe to ALL parts of the event, you can do so by subscribing to the "ALL …." tag.  The graphic tags to the right of the title highlight crossover parts, picks of the week, and 100% returnable issues.